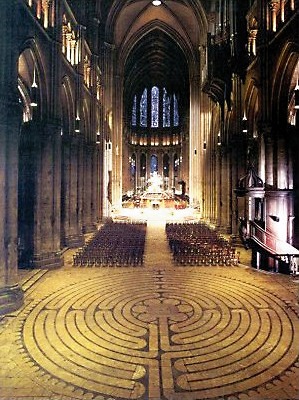 Bozeman resident Julee Chaikin isn't big on the bar scene, so she decided to spend her New Year's Eve in the middle of a labyrinth.

Chaikin, along with her son and grandson, visited Christ the King Lutheran Church, where volunteers from the Gallatin Valley Interfaith Association laid out a replica medieval labyrinth.
"I've heard they use them in hospice and that some people use them to find out 'why'' and to find their place in life," Chaikin said.
The flat, 36-foot diameter labyrinth was composed of sheets of canvas laid on the church floor. It is a nearly life-sized replica of the stone labyrinth carved into the floor of the Chartres Cathedral in France.
Such labyrinths have been used since the Middle Ages as a symbolic pilgrimage for people who could not afford to make the actual journey, said the Rev. Philip Zemke, who helped organize the event.
A single, narrow path winds through the labyrinth, forming a pattern with 11 levels or "courses." It takes about 30 to 45 minutes to walk the path, Zemke said.
Unlike a maze, there are no blind alleys. The point is to progress to the center and back out again while meditating or praying, Zemke said.
"There's no right or wrong way," he said. "You're not supposed to come away glowing as a sign you've walked it, but it's really individualized. No one comes out of the labyrinth without an experience."
The labyrinth belongs to the Bozeman Deaconess Spiritual Care Department, which has also installed a smaller, permanent labyrinth in a park outside the hospital in Bozeman.
"Labyrinths have been shown to be therapeutic for people with chronic illness or people going through grief," said the Rev. Dr. Kenneth Mottram, manager of the spiritual care department.
Mottram said many people who are ill or who are facing the end of their lives will walk labyrinths to find peace of mind. Organizations like the Wellness Community have used the labyrinth for therapy.
Chaikin, who was the first person to arrive to the event, said she had walked a labyrinth before and has seen some of its therapeutic effects firsthand.
"Everybody has a different reason for doing it, but they all have an experience by the end," she said.